Cumbernauld town centre again named as main reason for nomination.
CUMBERNAULD is set to come in for even more close captioning, analysis and criticism, next year, as the town, and its main centre – described as the UK's ugliest multiple times – is nominated for the 2014 'Plook on the Plinth Award'.
The Award, which is handed out by the Urban Realm magazine has been handed out to Cumbernauld twice, in 2001 and 2005.

Urban Realm magazine host the competition. Logo: Urban Realm.
According to the town's nomination, the town was nominated by "Dave", who argues that: "Right, to start is the vanishing of facilities: The local court: The bus depot: Abronhill High school (of Gregory's Girl fame): Local records moved away (to Motherwell): Clyde FC moving to East Kilbride: The local college facing closure (on merging with Motherwell College...)"
"Dave" went on to say that Cumbernauld should win the award because "Most of the businesses in the town cutting jobs", and that the town had a "worrying lack of contact with the council", in addition to a "shite" town centre, with Cumbernauld "rapidly turning into a massive housing estate in the mould of Easterhouse before there were shops", the nomination piece adds.
Continuing, "Dave" shows off his sarcastic side. "For example, they tear down nearly all of Deer Wood next to the M80 and claim it's NOT for housing? Yeah, right. I mean, we really didn't need Cumbernauld House anyway, so let's flog it to the first developer who wants to rip up all of Cumbernauld field and most of the land from the village to the railway line for houses," he says.
He adds: "And the attitude of the 'Motherwell Mafia' (as some of the few remaining council staff c all them) should be investigated; all of them. And that shower in Holyrood are a worthless shower, as well. Our local MSP is an empty waste of space condemning but not questioning, just like all of the local Councillors. 
"It doesn't matter what party they're part of, they don't give a shit about those who voted them in. And Cumbernauld rots, slowly, dying as worthy causes fade to dust and the public suffers... And don't get me started on what an 'improvement' the M80 is!"
The nomination – courtesy of "Dave" – comes after Cumbernauld picked up the shaming award twice, in 2001 and again in 2005 – mostly because of the town's shopping centre, which was once hailed as an architectural model for the world, being the first indoor shopping centre in the United Kingdom.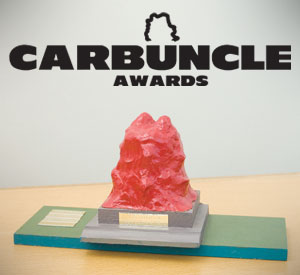 Cumbernauld has won the shaming award twice before. Picture: Urban Realm.
Back in February, Cumbernauld was nominated twice – in two areas of the Urban Realm's contest, which forced local activists to speak out, and show how Cumbernauld was moving forward.
John Glenday, Editor of the Urban Realm magazine also hit out at the town's nomination, telling the Cumbernauld News that local community had played a big part in helping the town to sidestep the shortlist, but accepted that issues still exist.
In February, he said: "Cumbernauld town centre may still not be beautiful - and there remains much that is wrong, but there is hope. For that reason alone it could not be named a Carbuncle town in 2013.''
Mr Glenday said that Cumbernauld "could not" win the award for 2013, and the magazine's Editor may soon be reiterating his comments, in regards to the 2014 nomination, from "Dave", as Cumbernauld's 2013 canvass is a lot more colourful than the picture Dave's nomination paints.
For instance, in January – and again in June – Cumbernauld Environmental brought the key stakeholders, in charge of overseeing Cumbernauld town centre, in a duo of meetings which sought to teeth out a blueprint for the future development of Cumbernauld town centre.
The invite-only meeting were shown presentations by Eric Hislop, Head of Regeneration and Infrastructure at North Lanarkshire Council; Professor Gordon Murray, Head of School for Architecture and Design at Strathclyde University, and Councillor Tom Kerr, Provost of West Lothian Council, who was instrumental in the redevelopment of Livingston Town Centre.
In January, Cumbernauld Environmental Society's vice chair, Adam Smith said: "Open conversation acknowledged the difficulties around split ownership, with three private companies having control over the Town Centre, one of which is currently in administration; and of having Central Way flowing through the Town Centre. 
"Much discussion also centred on the realistic possibility of being able to take drastic action to deliver a wholesale redevelopment of the Town Centre in the current economic climate. However, the discussion remained positive with a number of suggestions aired including a larger use for entertainment and leisure, creating more of an evening economy and increasing footfall during quieter periods; and for work to take place to improve the look of the Town Centre access points, including the bus stances, as well as the overall external appearance, to make the Town Centre much more welcoming."
Cumbernauld Environmental Society organised the meetings. Picture: CES.
Then, on Friday 7th June, the society hosted their second 'Cumbernauld Town Centre Regeneration Conference', which was chaired by local Rotarian, Professor Frank Clark, and guest speakers including Allan Graham, Chair, CCCL; Lorna Bowden, Business Manager of Strategic Planning, NLC; and, Malcolm Fraser, Chair of the Scottish Government's National Review of Town Centres.
Attendees to both meetings included the managers of Cumbernauld Shopping Centre and the Antonine Shopping Centre, and representatives of North Lanarkshire Council, including senior planning officials and Councillors Chadha, Graham, Goldie, Irvine, Johnston, and Muir; as well as Cumbernauld and Kilsyth MSP Jamie Hepburn, and local MP Gregg McClymont.
In September, Cumbernauld shifted its carbuncle award shame, as the town picked up the most 'beautiful' small city in Scotland trophy at the 2013 Beautiful Scotland awards. 
The accolade was bestowed upon Cumbernauld after judges visited a number of innovative environmental projects currently taking place across the town, including the new Greenfaulds Community Orchard, nature reserve and Hope Community Garden, as well as Cumbernauld House Park, Cumbernauld Glen nature reserve and an eco-garden at Cumbernauld High School.
The awarding of a prize to Cumbernauld was the second year Cumbernauld came away with recognition from Beautiful Scotland, after the Cumbernauld Environmental Society entered the town in the 2012 awards.
Aside from community activism and environmental awards, one of Cumbernauld's churches was bestowed an award as part of the UK's 'best modern churches' awards, in November. 
Cumbernauld's Kildrum Parish Church was named on the competition's short-list, which originally stood at over two-hundred entrants.
Published by the National Churches Trust, the competition sought to find the best modern churches to be built in Britain since 1953 with Kildrum Parish Church named on the final short list, back in October.
St Paul's Church, on Bow Common, in London, which was penned by Maguire and Murray, in 1960, was announced as the competition winner, by Archbishop of Canterbury, at a special service, at Lambeth Palace, on November 7th. Kildrum Parish Church came ninth in the competition.
Designed by Reiach and Hall in 1965, the Cumbernauld entrant came ninth out of over 200 original entrants. Speaking of Kildrum Parish Church, the competition's judges said it was: "An elegant 'Miesian' box, having a simplicity inside and out usually associated with Scandinavian modern architecture.  The church hall and manse are of a piece and the links have been carefully considered. The nave is well proportioned and unusually for a church the view to the outside has both been encouraged and carefully considered.
All awards aside, Cumbernauld has a vast array of local charities, clubs, groups and organisations, who dedicate themselves to making Cumbernauld a better place to live, work and visit – and although there are far too many to mention, we even have our own little list of reasons why Cumbernauld is actually a wonderful town.
Here they are:
Cumbernauld is home to the first indoor shopping mall, in the United Kingdom; 

Bill Forsyth used Cumbernauld as the backdrop to his Scottish cult movie, 

'Gregory's Girl'

; 

Pedestrians need not cross a road, with underpasses, footbridges and pavements connecting all areas of the town; 

Cumbernauld has a fantastic connection with the natural environment; each area has a 'green corridor' with the town having a number of public green spaces; 

Cumbernauld is home to the 

largest public park

 in North Lanarkshire; 

Cumbernauld Theatre

 encourages a vibrant cultural scene; 

In 2012, Cumbernauld was named as the 'Best Town' at the 

Scottish Design Awards

; 

Residents have a huge selection of charities, clubs and organisations to get involved with, throughout the town; 

Cumbernauld, Condorrat Tenants and Residents Association and Cumbernauld Village Action for the Community have been awarded silver in their categories at

Beautiful Scotland

, a number of times between them; 

Transport access to the town, by car, bus, taxi or train is quick and convenient, with one main road connecting the town; 

Areas of Cumbernauld, including the town as a whole, Kildrum Primary School and Town Centre Phase 1 have been named in the 

DoCoMoMo Key Scottish Monuments list

, of 60 notable post-war buildings; 

Cumbernauld is home to a number of notable businesses, including AG Barr and Farmfoods, with factories for other firms also housed in the town; Mackintosh Rainwear and OKI are two key examples; 

When the town was first built, every 400th house had a convenience store, with each area having its own community facility; 

As well as a local convenience store, a large proportion of the houses, when built, had their own private garage, with 57% of houses having their own garden, something unique for the new residents from Glasgow tenements; 

Ronnie Corbett was once the celebrity voice which promoted Cumbernauld through famous the 'Cumby Dog' production and '3 Peach' animation 

adverts

; 

Cumbernauld had the first town artist to work in the UK New Town system, 

Brian Miller

; 

Cumbernauld is the present home to the 

St Enoch Clock

, which was gifted to the town by its owner, Raymond Gillies, in 1977; 

Cumbernauld's original settlement can be dated back to the Roman occupation, by the historic shelter of the 

Antonine Wall

, with the Cumbernauld Estate having a 

pre-medieval history

, centred around Cumbernauld House; the site which was once home to two castles; 

Previously Cumbernauld was a popular location for Mining and quarrying, with the land being rich in minerals; 

The town is home to Andy Scott's £250,000, 32ft, 

'Arria'

 structure which stands beside the M80, and seen by approximately 70,000 commuters each day; 

Previously home to the largest Tesco store in Scotland, Cumbernauld has an eclectic mix of businesses, between the town centre, Westway Retail Park, Cumbernauld Village and nearby Kilsyth; 

Cumbernauld is home to 

Palacerigg Country Park

; unique to central Scotland in its habitation of rare breeds; 

Everybody knows the Cumbernauld slogan, and its answer – 'What's it called – Cumbernauld!', a jingle born by accident at an '80s board-meeting; 

Cumbernauld became a world leader in design, in 1967, after judges from the American Institute of Architects awarded Cumbernauld the 

Reynolds Award

; describing the town as the "Most significant current contribution to the art and science of urban design in the western world", in doing so; 

Between 1967 and 1968, there were over 4'000 official visits from 40 different countries, to Cumbernauld; 

Cumbernauld's Broadwood Loch is the setting for the annual 

'Cumbernauld 10k'

. Held each September the event is the pinnacle of the North Lanarkshire sporting calendar, and is a well-respected sporting event across Scotland as a whole; 

Cumbernauld has a well-mixed population, split almost equally between 19924 male residents, of working age, and 19006 females, of working age. The town is home to 3139 people aged 16-19; with children making up 19.53% per cent of the town's population; working age people 62.02%; and, those of pensionable age make up 18.45% of the town's population, according to 

Scottish Neighbourhood Statistics

; 

Alongside the architectural magnificence of Cumbernauld town centre, notable buildings in the town include Cumbernauld College, Kildrum Primary, Our Lady's High School, and Sacred Heart Church, all of which were designed by famous Scottish architectural firm, 

Gillespie, Kidd & Coia

; 

Cumbernauld is home to an abundance of wildlife. 

Cumbernauld Glen

 is home to Common Pipistrelle, Wood Warbler, Kingfisher, Rowan, Crossbill, Scots Pine, Bluebell; 

Forest Wood

 is home to the Common lizard, Crossbill, Wood Warbler, Scots Pine, Common Pipistrelle, Bluebell, Rowan, Round-leaved Sundew; 

Luggiebank Wood

, meanwhile, is home to wildlife such as the Common blue butterfly, Otter, Rowan, Kingfisher, Water Vole, Bluebell, Common Pipistrelle, with 

Northside Wood

home to wildlife including the Bluebell and Common Pipistrelle. Furthermore, the Scottish Wildlife Trust have announced that Cumbernauld is home to the illusive and rarely found 

pine marten

; 

Education is Cumbernauld is of an excellent standard, with Abronhill's Whitelees Primary School 

2012's best Scottish primary school

, after school inspectors gifted the school five 'excellent' grades.
Comments
---
Have your say on this story via the comment form below. Your e-mail address won't appear publicly, and comments are not moderated, and do not necessarily represent the views of Cumbernauld Media; advertisers, affiliates; or, staff. If someone is being abusive then Cumbernauld Media have the right to remove comments, and complaints can be made via 
this page
. Refresh the page if your comments do not appear immediately. 
---
More community stories