Jason, above, was featured in the Daily Mail's 'cybernat' smear. Picture: Facebook.
THE Scottish Daily Mail have "tracked down" the so-called 'cybernats' who post "poison" on the net, as part of the 'Yes' campaign ahead of this September's referendum on Scottish independence.
In today's Scottish Daily Mail, journalist Graham Grant sets out to "unmask" users of micro-blogging website, 'Twitter' who post "endless bile and vitriol" to their profiles, as part of the campaign to encourage Scots to vote yes in eight months' time. 
Scots go to the polls on 18th September, this autumn, and answer the straightforward 'Yes/No' question, 'Should Scotland be an independent country?'
Ahead of the poll, social media accounts have lit up with activity, from both sides of the debate, as the pro-independence Yes Scotland camp and pro-union Better Together camp try to persuade Scots to vote either yes or no to a Scottish split from the UK.
With 235 days to go until polling stations open for the most historic ballot in Scotland's history, both campaign groups have dedicated themselves to community-based campaigns, although social media is playing a heavy role in the constitutional battle, for heads, hearts and minds.
As the official cross-party groups get supporters to trudge the pavements, knock on doors, telephone voters and arrange public meetings, some critics have said that the use of social media is becoming less important to the outcome of the referendum, with some people arguing that social media is now just a forum for so-called 'cyberbrits' and 'cybernats' to shout at each other; cutting out the 'ordinary voter' entirely, who is simply sick of politicking. 
A 'cybernat' is a person who posts updates, known as 'tweets', to their Twitter accounts, which are supportive of the Scottish National Party (SNP), and independence, whilst a 'cyberbrit' is an individual who posts tweets opposing Scottish independence, and sometimes posts against parties and politicians who actively support a Scottish split from the UK.
The sometimes bitter battles between 'cybernats' and 'cyberbrits' have hit the headlines previously, after Lord George Foulkes coined the phrase, some years ago, with today's Scottish Daily Mail double-page spread just the latest in a series of articles criticising the sometimes abusive and offensive language of the net-based campaigners, on both sides.
Under the headline 'CYBERNATS UNMASKED', journalist Graham Grant launches a tirade of abuse towards so-called 'cybernats', who he argues are "hunched" over their "flickering" computer screens.
His article goes on to deliver a somewhat detailed outline of the personal lives of select 'cybernats', with helpful images and personal details, such as ages, pictures and home towns gifted to Scottish Daily Mail readers as part of the 'special investigation' report, which is just the latest in a two-week long series of "Cybernat Watch" reports, aimed at "exposing" the Twitter-based, pro-independence campaigners responsible for "spilling endless bile", according to the Mail's Grant.
Making no mention of so-called 'cyberbrits', Grant simply says that "both sides" of the independence campaign have their "offensive tweeters", adding however that, 'cybernats' are "marked out" due to their "modus operandi", or 'method of operation', to lay readers.
In his story, Grant writes: "The Scottish Daily Mail set out to unmask some of them ['cybernats'], with surprising results."
He went on to say: "Some don't live here and can't vote in September's crucial referendum, or aren't even Scottish; some are outwardly respectable, professional people, reserving their bile for the internet."
Turning the spotlight on the individuals behind some of the "flickering" computer screens, Grant profiles Cumbernauld 'cybernat' Jason Dolan.
Describing himself as "RF & Information Technology Master, Broadcaster, Film maker", forty-one year old Dolan is a resident of Condorrat, although Grant uses his article to describe Dolan as living on "state handouts"; confining Dolan outside the realm of "outwardly respectable, professional people…"
Writing about Dolan, Grant said: "And some, like Jason Dolan, rail against the UK Government, while openly admitting they depend on its benefits system."
Graham Grant attacked 'cybernats' in his two-page spread. Picture: Scottish Daily Mail.
He added: "When the Mail visited his small terraced house in Cumbernauld, Dunbartonshire, he had been asleep for most of the day, only waking at around 6pm."
Criticising Dolan further Grant's story says the Condorrat-based independence campaigner "lives on state handouts"; staying at home with his 73-year-old mother.
In a last ditch attempt to rubbish Jason Dolan, 41, Grant writes: "Other cybernats don't fit this profile of the bitter, lonely blogger, spewing bile in the small hours", although the journalist concedes that, "Dolan is rather more reasoned in person…"
At shortly after six o'clock this evening (25th January 2014), Jason took to Twitter to criticise the article, calling the piece "pish".
At 6:01pm, Dolan
tweeted
: "I see you're still up writing pish on your Daily Fail Blog and being an online pest #cybernat #trolling people @GrahamGGrant #indyref #SNP"
The 'name and shame' tactics adopted by the right-wing Daily Mail's Scottish title has conceived a storm of anger through none other than social media website, Twitter, with No and Yes supporters coming together, with people of no independence persuasion to criticise the broadsheet's strategies – or, 'modus operandi'– with some Twitter users supporting the actions of the Scottish Daily Mail.
As the article is not available on the Daily Mail's website, Twitter users have been uploading images of the article from pages 12 and 13 of the Scottish daily publication. 
Melissa Murray, a 'cybernat' identified in Grant's article, took to Twitter to
say
: "OMG, I finally read the Cybernats Watch segment. They mention me by name, state my company & inform people where I live. Jeezo." Grant used Ms Murray as his article's centre-piece, reporting how the US-born, Edinburgh citizen of 45, lived in the "affluent Bruntsfield area of Edinburgh", as a director of management consultancy firm, Darkstar Resources.
Ross MacRae, a Better Together supporter, was one of the Twitter users who positively promoted the article. He
tweeted
: "A must-read in the Scottish Daily Mail - @GrahamGGrant unmasks the #cybernats who're poisoning the #indyref debate".
Meanwhile, Twitter user 'GML1320' lampooned the Scottish Daily Mail spread,
tweeting
: As well as "cybernats" the Daily Mail also like to write about 8 year old girls. http://www.themediablog.co.uk/the-media-blog/2013/01/daily-mail-turns-the-creepiness-up-a-notch.html … #indyref" The Twitter user then goes on to post of picture of Heidi Klum's young daughter, with the caption, "Who's the model now? Leni steals the show as her mother Heidi Klum wears dowdy outfit to take her to gym class. Mum's not the only beauty in the family", which refers to a previous Daily Mail
article
, from January 2013, called 'Who's the model now? Little Leni steals the show as her mother Heidi Klum wears dowdy outfit to take her to gym class'.
Graham Grant, the Glasgow-based journalist responsible for the smear spread, has also taken to Twitter since his article went viral. He
tweeted
at 5:16pm, this afternoon: "Interesting that some #cybernats have chosen to react to allegations of trolling by, er... trolling! #indyref"
Grant's article follows almost two-weeks of "Cybernat Watch" stories from the Daily Mail's Scottish publication, and comes after former UK Chancellor, and now Better Together chairman, Alastair Darling weighed into the issue of 'cyber' campaigning.
In an interview with the
Observer
, from January 12th 2014, Darling told journalist Daniel Boffey that 'cybernats' were to blame for the "vile abuse" posted on Twitter, claiming that the behaviour of such individuals was "disgraceful", adding that 'cybernats' would "trash anyone who disagrees with them."
Darling's comments come after some high-profile 'cyberbrit' postings, which issued death threats to Scottish Nationalist politicians.
On April 29th, 2012, the
Sunday Express
reported that an anti-independence, Labour supporter had wished for the death of Scottish First Minister Alex Salmond's father, Robert Salmond.
At the time, the Sunday Express
reported
that, "The sick jibe was made by "Daniel Kelly", a member of the "Scottish Labour for Scotland" group on the social networking website, Facebook."
The article described how, "Scottish Labour leader Johann Lamont, her deputy Anas Sarwar, shadow Scottish Secretary Margaret Curran and Tony Blair's spin doctor Alastair Campbell are all members of the Facebook group", although the paper said that, "Labour officials insisted they had no knowledge of Kelly and did not believe he is a member of the party."
The piece added: "However, he identifies himself as a staunch supporter and is Facebook friends with Ms Lamont, Mr Sarwar and Mrs Curran, as well as dozens of high-ranking Labour politicians including former First Minister Jack McConnell, MPs Cathy Jamieson, Ian Davidson, Tom Harris and Tom Watson, and MSPs Jackie Baillie, James Kelly, John Park and Lewis Macdonald."
The next so-called 'cyberbrit' problem came on December 2nd, 2012, when the
Scottish Sun reported
that: "FURIOUS Nats last night slammed pro-union campaign chiefs — after a thug posted a death threat against the SNP on its Facebook page."
Under the headline 'Fury over SNP web kill threat', Scottish Sun journalist Cameron Hay reported how, "Gary Coburn wrote on the Better Together site that he wanted to fire BULLETS at party leaders."
Then, on February 17th, 2013, the
Sunday Express reported
how Scottish Deputy First Minister, Nicola Sturgeon was receiving death threats through micro-blogging website, Twitter. 
The paper's Ben Borland reported how, "The Deputy First Minister said that she had repeatedly received a chilling message from the same user of the social networking website reading: "Kill the bitch.""
At the time, the Deputy First Minister told the Sunday Express how she "blocked" the users responsible, and labelled them as being "downright arrogant". 
Recognising that the problem was more widespread than the Yes campaign, Ms Sturgeon told the Express: "I hate to see stupid, offensive, downright ignorant rubbish from people purporting to believe the same stuff that I believe in. But it is not just a problem from the Yes camp. Some of the most diabolical stuff comes from people on the No side."
Ms Nicola echoed her words again today, when, she told the Daily Mail: "I deplore abuse on the internet and social media, wherever it comes from."
"It doesn't just come from one side, though, I could show you some of the abuse I get on Twitter," she added. "You get people on Twitter who are not associated with either side of the argument."
"Everybody in politics has to lead by example and I am absolutely clear that Twitter and Facebook are a place for positive debate. I would condemn anyone who falls short of that."
Ms Sturgeon's comments were published on the paper's front page as the Crown Office announced that online bullies, pests and trolls could be sentenced to up to five years in prison for posting harassing or offensive comments online.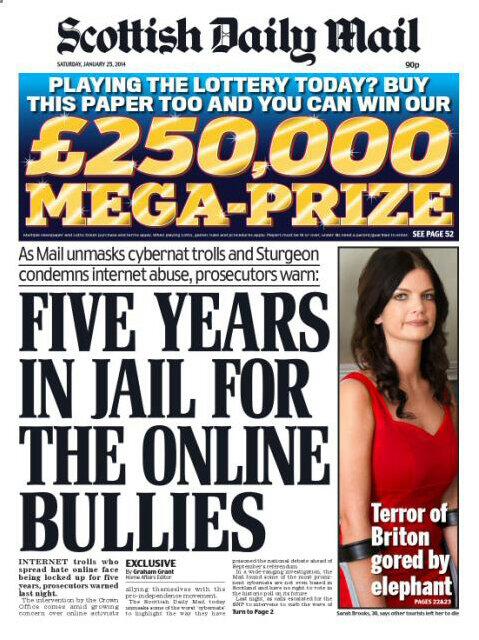 Trolling made the Daily Mail's front page today. Picture: Scottish Daily Mail.
The right-wing publication said the Crown Office's "intervention" came amid "growing concern" about the behaviour of "activists allying themselves with the proindependence movement", online, although no one independence campaign belief was specifically cited by the Crown Office, with a  Crown Office spokesman simply explaining: "We presently have offence - specific guidance which deals with these types of offences."
The spokesman added: "Each case is considered on its own facts and circumstances and we take a robust approach to such comments if they are criminal in content regardless of source."
The official pro-independence campaign, Yes Scotland, also commented on the Crown Office's announcement.
A spokesman for the cross-party campaign said: "We condemn all forms of online bullying and intimidation, regardless of which side of the debate it comes from.
"The referendum campaign can do without the vitriol and as such, we instruct all staff and volunteers not to interact with Twitter or Facebook trolls."
No statement has been released by the pro-union, Better Together campaign on the matter, although the cross-party, anti-independence group's
'campaign rules'
, posted online in October 2012, say that supporters should "…respect that people have different views", adding that Better Together activists should "share" their views, and "invite them to share their perspective", without being "…overly argumentative, antagonistic or aggressive" or resulting to, "…personal attacks on anyone on the other side of the argument".