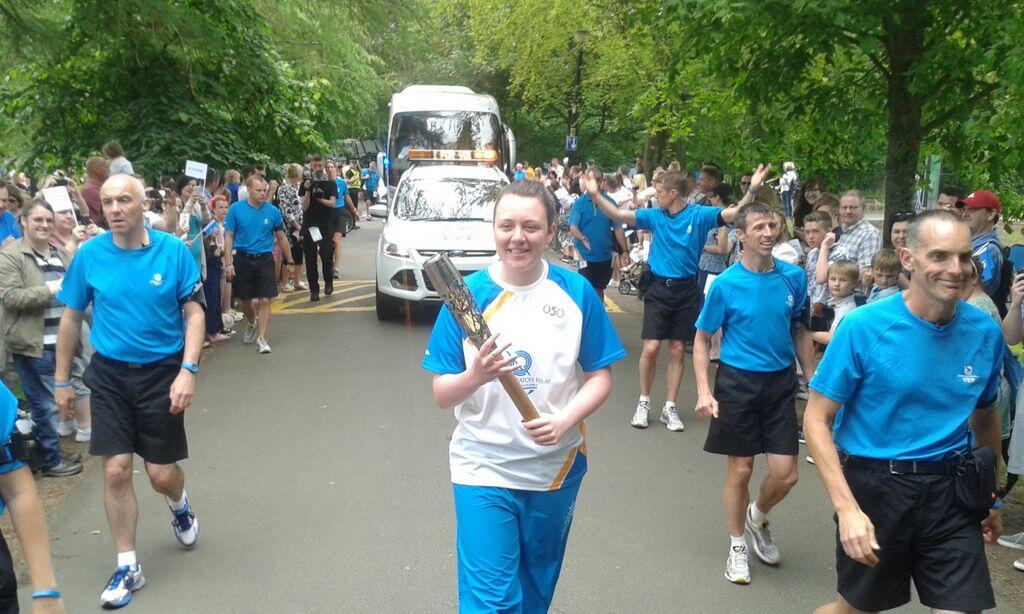 The baton passing through C
alderglen Country Park yesterday. Pic: Glasgow 2014
.
SCHOOL children and local residents across Cumbernauld have been invited to cheer on the town's baton bearers through North Carbrain tomorrow morning (23 June), as the Glasgow 2014 Queen's Baton Relay continues to make its way across the length and breadth of Scotland.
Starting in Stepps, at 8am, the baton will travel through Muirhead, Chryston, Cumbernauld, Airdrie, Chapelhall, Newmains, Cambusnethan, Wishaw, Motherwell, Coatbridge, Tannochside and Viewpark before ending the day at Strathclyde Country Park.
North Lanarkshire Council has confirmed that the baton will pass through Cumbernauld between 9:10am and 9:30am, in a relay that will cover 109km across the region, with some 105 lucky people lined up to be baton bearers. 
Signs along North Carbrain Road have been promoting the upcoming event for the past week, and suggest that 9:30am will be the ideal time for locals to stand in the street or watch out their windows, for the baton's arrival in the town.
North Lanarkshire Provost, Jim Robertson invited local residents to line the route to "cheer on local champions who will carry the baton."
Mr Robertson said: "The Queen's Baton Relay will be a fantastic opportunity to celebrate communities and friendship in North Lanarkshire and across the Commonwealth." 
"For the local people who will carry the baton it will be a very proud day and we want to recognise their achievements and cheer them on. It's also a call for everyone to get behind Team Scotland and show our support for the athletes as they get ready to compete for medals at the Games."
As part of North Lanarkshire wide celebrations, residents will be able to take part in two great community events during the day – one at Summerlee Museum and a second at the spectacular evening celebration at Strathclyde Park.
Meanwhile, more than 700 school children will also take part in Commonwealth Games-related sports activities at the Ravenscraig Regional Sports Facility.
"So I hope the people of North Lanarkshire will give the Queen's Baton Relay and our baton bearers a very warm reception and make it a day to remember as we build towards North Lanarkshire playing its part as a Proud Host Venue for the Games, with the Triathlon at Strathclyde Park and part of the Cycling Time Trial in the Northern Corridor," Mr Robertson added. 
Starting the day at 8am, the baton will start in Stepps, on Cumbernauld Road - at the 'Welcome to North Lanarkshire' road sign; then, it will continue along Cumbernauld Road; travel past First Avenue, Second Avenue, Comrie Road, Laundry Lane, Edward Place, and West Avenue, and move onto Blenheim Avenue, followed by a visit to St Andrew's Way - where it will stop at Stepps Primary School, at 8:20am.
By 8:35am, the baton will be on Cumbernauld Road, at the welcome to Muirhead sign, where it will continue; passing Knowe Road and Fleming Avenue, before turning into Lindsaybeg Road, where it will visit Chilterns Home, at 8:45am, for 10 minutes. Afterwards, the baton will continue back on Lindsaybeg Road, past Chryston Business Centre and Chryston High School, before turning onto Main Street, then Lindsaybeg Road, at Gartferry Road and on to Chryston Road at Dean Crescent before finishing at the Ian Nicholson Sports Centre at 9:05am.
After passing through Stepps and Muirhead, the baton will stop off for a drop of Scotland's famous fizz, at the AG Barr factory – where it will arrive at 9:10. Afterwards the baton will travel north-east and join North Carbrain Road, at the Gala Bingo, before it continues down through North Carbrain past Bron Way, Central Health Centre, Cumbernauld College and onto Beechwood Road, for about 9:55am.
The Cumbernauld leg of the some 190,000km Queen's Baton Relay - over 288 days through the 70 nations and territories of the Commonwealth – will then be over, with the baton heading over to Airdrie's Black Street, where it will arrive at 10am.
However, even before the baton has reached North Lanarkshire, controversy had already been brewing over plans by the trade union, Unison, to protest at various relay stop offs and at the final evening's celebrations at Strathclyde Country Park.
The actions were announced last week, in a bitter conflict between the union and the council over equal pay. Unison North Lanarkshire has since called off the action, however, explaining that "constructive negotiations" are being entered into.
In explaining the branch's decision to ditch the protest action, John Mooney, secretary of Unison North Lanarkshire said: "Earlier this week 8 long years of litigation against North Lanarkshire Council surrounding equal pay came to a head after our branch campaign to bring NLC to the negotiating table was successful."
"The framework for the negotiations are currently being worked on with the intention to provide an agreement that all parties involved will sign up to," he added.
"Now that we have been convinced that we are entering constructive negotiations, UNISON are prepared to suspend all campaign activities to allow the negotiations to go ahead. As such we will remove our ad trailers from the streets, and our planned protest at the Queens Baton Relay at Strathclyde Park on 23rd June is now cancelled.
"These negotiations will not be easy and will not be resolved overnight, but rest assured that we will update you all when we can.
"Make no mistake, it was local union activity that brought about this breakthrough and I want to thank everyone involved in planning and taking part in this campaign."
The Queen's Baton Relay has been travelling across the 70 nations and territories of the Commonwealth, in a 288 day journey, covering 190,000km. The Relay will end on July 23rd at Glasgow's Celtic Park, in time for the Opening Ceremony of the Games.